PAX East 2019 is coming to Boston March 28th through 31st and Skybound Games will be there with bells on! This year, we've got a huge booth space and we're showing off some of the hottest console and board games coming your way! Join us at Booth #12178 for all weekend and check out all the fun!
On the video game side, DEATH'S GAMBIT, SKULLGIRLS, BALDUR'S GATE, GANG BEASTS and ALL seasons of TELLTALE'S THE WALKING DEAD will be on display and playable. We'll also have TELLTALES: THE WALKING DEAD – THE FINAL SEASON Standard Pack for sale. Our tabletop games featured will include PITCHSTORM, GUARDIAN'S CALL and demos of THE WALKING DEAD: SOMETHING TO FEAR.
Here's where to find us: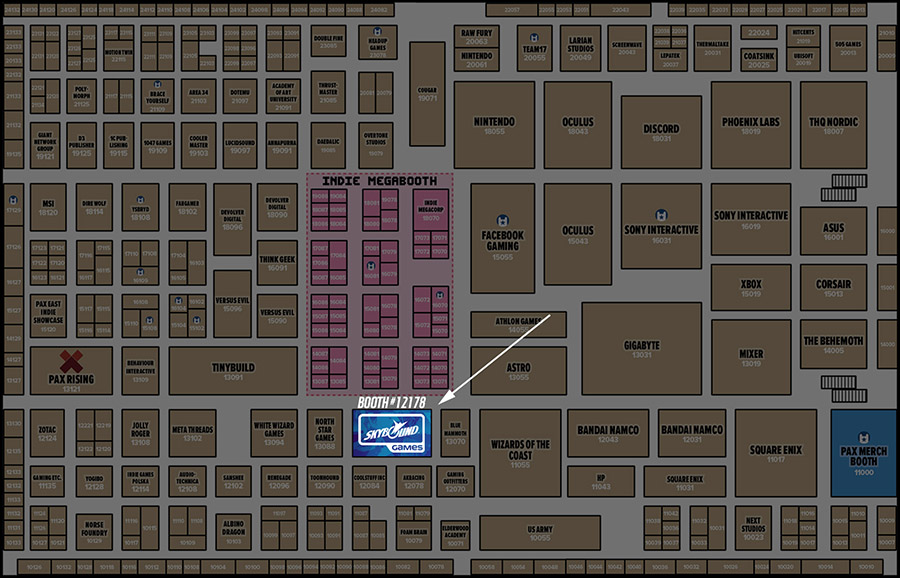 SHOW HOURS
THU 3/28 10AM – 12AM
FRI 3/29 10AM – 12AM
SAT 3/30 10AM – 12AM
SUN 3/31 10AM – 7PM
EXPO HALL HOURS
THU 3/28 10AM – 6PM
FRI 3/29 10AM – 6PM
SAT 3/30 10AM – 6PM
SUN 3/31 10AM – 6PM
Skybound Games will also be participated in some exciting panels this year that you won't want to miss! Details below:
How Publishers Find, Mentor and Promote Indie Games
Friday, March 29 at 12pm in the Dragonfly Theatre
An uncountable number of games are released every year across a bevy of platforms. That doesn't include early access titles and games-as-a-service which have disrupted the traditional release cycle. In this era of game development, there has never been more opportunity for developers and publishers nor has there been as much competition. What do indie developers need to do to stand out? What do publishers look for in these games? Once they find each other how do publishers help the developers? Find out the answers to these questions and more from representatives of Skybound Games, Beamdog and others.
Turning Beloved IPs into Games that Fans Love
Friday, March 29 at 1:30pm in the Dragonfly Theatre
Having a well-known IP to build a game around can have its advantages, but there are real challenges creating licensed games as well. Come listen and learn from some of the industry's best as they talk about working with Rick and Morty, Game of Thrones, The Walking Dead, DC Comics and more.
Pitchstorm LIVE!
Saturday, March 30 at 7:30pm in the Condor Theatre
Join a group of industry vets as they play Pitchstorm, a party game that puts you in the position of an unprepared writer pitching movies to the world's worst executives. Each round, one player acts as the executive, while everyone else plays as a writer trying to pitch them the next Hollywood Blockbuster. Each player gets a semi-random movie, and has less than a minute to pitch their idea to the executive. Prepare of plenty of terrible ideas and audience interaction.